Employment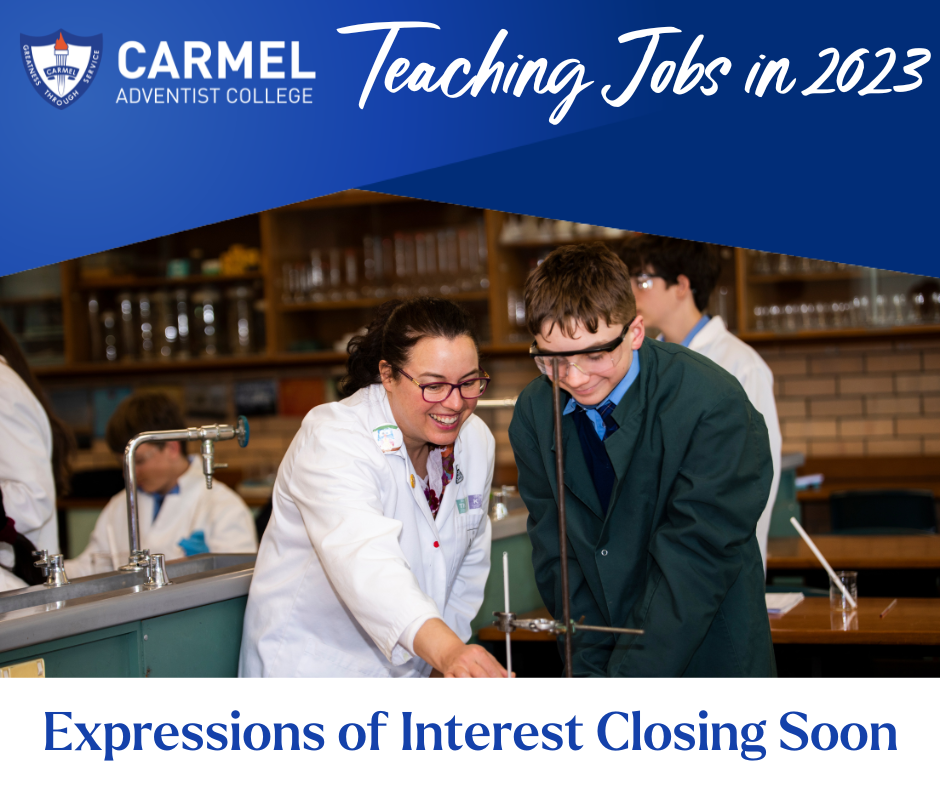 Our staff are passionate about helping young people to flourish in all aspects of their life, and that our best life comes from experiencing the love, hope, peace and joy that comes from knowing Jesus and living lives of service.
If you share our worldview and have a genuine desire to share Christ with young minds through your teaching and example, we welcome your expression of interest in working at Carmel Adventist College.
Current Vacancies:
Junior Secondary Teacher -
Humanities, English and Encounter (Religious Studies)
Role Description:
Seventh-day Adventist Schools (Western Australia) Limited is seeking to find a creative and passionate full-time Secondary Teacher for a maternity leave contract at Carmel Adventist College Secondary for Terms 2-4, 2023. This position is being advertised as a full-time role, however there is an opportunity to negotiate a part-time role. There is also the possibility that the maternity leave may be extended into 2024.
This position will be responsible for teaching Junior Humanities, English and Encounter (Religious Studies) to Years 7-8. As an excellent classroom teacher, the successful applicant will have a deep and broad knowledge of current issues and best practice in education, demonstrating the capacity to work harmoniously with teams, whether in supervisory, collegial or advisory contexts. The ability to connect with students from a range of backgrounds and abilities, to help them become engaged learners and achieve success at their level, is an important component of this role. While this position is open to all applicants, including recent graduates, experience in teaching junior secondary students is desirable.
Application Requirements:
The successful applicant will have:
a personal faith and commitment to Jesus Christ and a lifestyle consistent with that faith, including an active commitment to the church they attend
clear communication with students, colleagues and the wider community regarding educational and welfare issues
an appropriate tertiary education degree
registration with the Teacher Registration Board of Western Australia (prior to commencement)
the ability to meet and maintain the criteria of the Australia Professional Standards for Teachers at the proficient level according to legislation
Expressions of Interest:
Appropriately qualified and experienced individuals are invited to apply by sending a cover letter, curriculum vitae, professional and faith references to the Director of Education, Steve Cowley at stevecowley@adventist.org.au .
Only those with a legal right to work in Australia may apply, and the appointing body reserves the right to fill this position at its discretion and to close applications early.
Applications Close:
Friday, 14 April 2023