Co-curriculum
Carmel Adventist College offers various co-curricular activities for the students to further enrich their lives.
Physical Education and Athletics
The physical education program is required for all students in Pre-Kindgergarten through Year 10. Physical fitness, skill mastery, teamwork, and good sportsmanship are included in the curriculum for each grade. The PE Department coordinates after-school sports programs for interested students. Varsity sports include Boys' and Girls' Basketball, and Girls' Volleyball. Intramural sports include Aus Tag and soccer.
Foreign Language
French is offered to students in Years 1- 8. This course develops the basic skills of understanding, speaking, reading, and writing of French and increases the knowledge, appreciation, and understanding of the cultures in which French is spoken as a first language.
Music
Carmel Adventist College has a culture of promoting and encouraging student involvement in music. As such, students on both campuses are provided with several musical options.
On the secondary campus students are given the opportunity to play an instrument as part of an informal band, who develop their performance skills through partipation in Chapel and other school activities.
On the primary campus students may be able to participate in an auditioned choir group that is made up of students who enjoy singing and want to develop their vocal skills. They experience several different genres of music and develop the ability to sing multiple-part music. This group performs for area churches and other local area organisations during special events.
Also, on both campuses, private music teachers offer their services to students while at school. Tuition is available in piano, guitar, flute and violin. Fees are paid directly to the music teachers and are not included with the regular college fee accounts. Please contact the office for names and phone numbers of music teachers.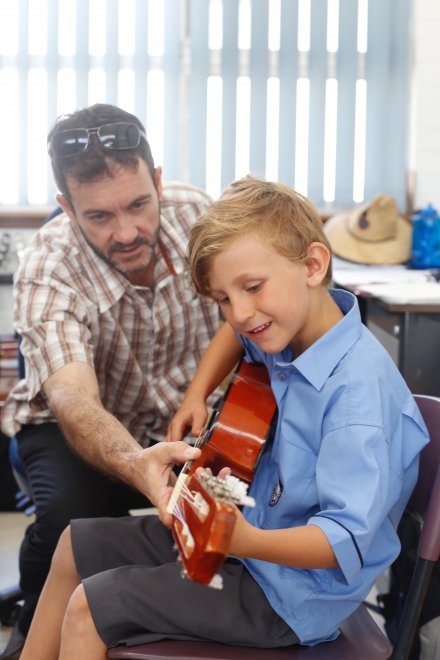 SIDE Studies (School of Isolated and Distance Education - Secondary School)
The College offers a wide range of subjects; however there may be some students may not be catered for through the subject selection process. As such, some students may wish to study courses of study not offered on Campus.
Students may choose to undertake additional courses of study through the School of Isolated and Distance Education (SIDE) with the support of the College's SIDE coordinator. This is available to students completing their West Australian Certificate of Education (WACE) in Year 11 and 12, and also to students wishing to study additional languages in Year 9 and 10.
Please note that studying through SIDE does involve an additional cost. To support our student's interests, the College is happy to support their family by sharing some portion of these extra charges.