Nature Play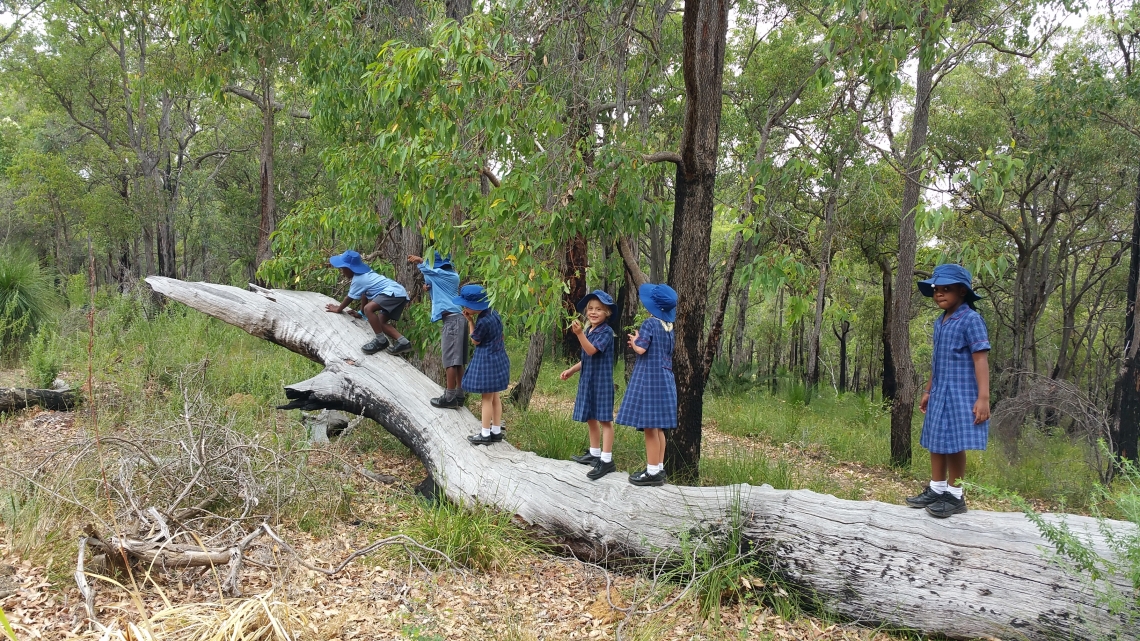 Carmel Adventist College has a strong focus on nature play, where formal education and the outdoors are combined, to help foster hands-on experiences and lifelong learning.
NURTURE THROUGH NATURE
At Carmel Adventist Primary College, we share a strong belief about the importance of nature in a child's development. Three of our current Carmel staff members have visited Auchlone Kindergarten in Scotland and participated in training with Claire Warden in the area of nurturing students through nature. The following quote captures the essence of our philosophy about our nature program:
"Imagine a world where the lines were harsh and unyielding, the textures were consistent and variation is unheard of. Does it inspire you? Now imagine a place where the carpet changes every day, the ceiling is a myriad of different colours, light, shadow and movement. The feelings and movement completely surround you, sometimes breezy, sometimes cold, others warm. Unexpected wonders fly by, sometimes full of colour and sometimes full of noise and movement. If we really want children to thrive we need to let their connection to nature nurture them."1
1. Nurture Through Nature, Claire Warden 2007
A SUSTAINABLE ADVANTAGE
There are many benefits to including nature in a child's learning program, in addition to a more traditional learning environment. Our nature play program aims to:
Provide a safe and stimulating environment in which children can feel happy and secure
Encourage the emotional, social, physical, creative and intellectual development of children both indoors and outdoors
Provide children with a very naturalistic environment indoors, in the garden and in the surrounding bushland areas where they are encouraged and supported to take risks and become the risk assessors
Promote the welfare of children and encourage their independence
Encourage positive attitudes to self and others, and develop confidence and resilience
Create opportunities for outdoor play which, at times, is challenging both physically and mentally
Encourage children to explore, appreciate and respect their environment
Provide opportunities to stimulate interest and imagination
Extend children's abilities to communicate ideas and feelings in a variety of ways
LEARNING IN OUR OWN BACKYARD
A college among the trees in the beautiful carmel and bickley valleys
THE COGNITIVE, SOCIAL, AND HEALTH BENEFITS OF NATURE PLAY
Latest research indicates the significant impact nature play has on children and the various benefits it brings to their development. At Carmel Adventist Primary College, we strive to incorporate nature play in a significant way as we educate our students in a holistic way.
"Unstructured free play in the out-of-doors brings a host of benefits to children—from being smarter to more cooperative to healthier overall. This well-documented article by two physicians builds a strong case for the importance of unstructured free play in the out-of-doors for all age groups, and especially young children. While concerned about the "obesity epidemic" in young children, the authors say that the health benefits from outdoor play are only one aspect of the overall benefits. They suggest that the concept of "play" is more compelling and inviting to most adult caregivers, parents and guardians than "exercise." The authors cite cognitive benefits from play in nature, including creativity, problem-solving, focus and self-discipline. Social benefits include cooperation, flexibility, and self-awareness. Emotional benefits include stress reduction, reduced aggression and increased happiness. Children will be smarter, better able to get along with others, healthier and happier when they have regular opportunities for free and unstructured play in the out-of-doors." 2
2. Burdette, Hillary L., M.D., M.S.; and Robert C. Whitaker, M.D, M.P.H. "Resurrecting Free Play in Young Children: Looking Beyond Fitness and Fatness to Attention, Affiliation and Affect." © 2005 American Medical Association.
Find out more at: www.childrenandnature.org
BUSH RANGERS
Bush Rangers is part of the Cadets WA program, hosted by the Department of Parks and Wildlife. Carmel's unit began in 2009. The program is centred around care for the natural environment and sustainability. Projects that the Bush Rangers have been involved in include; building the 'Deadly Rangers Bush Track', building veggie beds and raising vegetables, tree planting in the local area, various Indigenous tool making and food activities and other nature based activities. There are also several camps and excursions during the year. An added bonus of the program is the growth of students in their leadership, teamwork, safety and practical skills.